Hello its your dear Firegod here with some tips. Since I have lost my job I have nothing to do, so ill try to share my camp tactics with you guys and gals, and also if you guys and gals have tips to add of your own you can!
Before we beggin, a bit of a discloser, first make sure that you understand that you HAVE to be listning and paying attention because once someone comes in, you have to take the shot, ONE AND DONE!!!!!!!!! DONT GET INTO A SHOOTOUT!!!
Second, ususaly when i camp a door, i tend to be slightly to the side instead of being right on the wall next to the wall. The reason why is that you can usually get a broader window for the shot, and also your oponent will take more pelots from a angle than they will from the side.
Last, i will only be showing DEFENDING spots, and the reasoning beind this is because camping is universale. When on EU, follow your teamates, back them up as support, and watch the flank, when your team takes a point, you can use the EXACT same points to defend! Dont do more than your shotgun alows you.....your a camper through and through, so camp and stop being a hero...freakin pro........
So, here is the first stage that I will show some camp tricks today! SHOWDOWN!!!
Showdown can be a very difficult stage to camp when on EU, however, NRF has TONS of fun on this stage!!!.
So lets get started.
So when you first start as NRF, you will be right infront of 2. 2 is a quickplant for EU, so alot of the time EU will plant there since its WAY to much work to go out to 1, plus if EU can gain controll of 2, they can all move to 1 via the parking lot.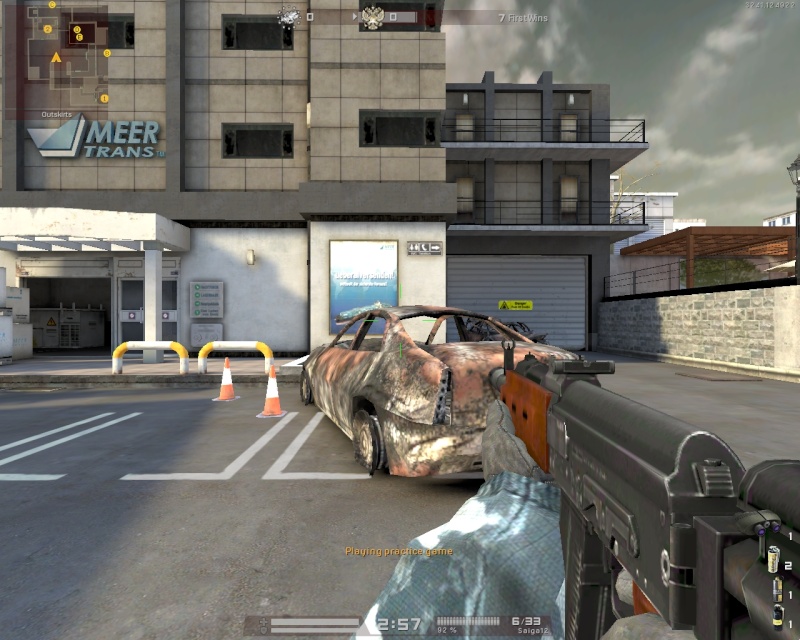 2 is a great place to camp, matter of fact, 2 is so awsome there isnt really much reason to go to 1 LOL
The reason why is that for some reason, most of EU takes for granted the Vent! They belive that because they have taken out the sniper that may be waiting at the vent, that its free to just run straight into 2,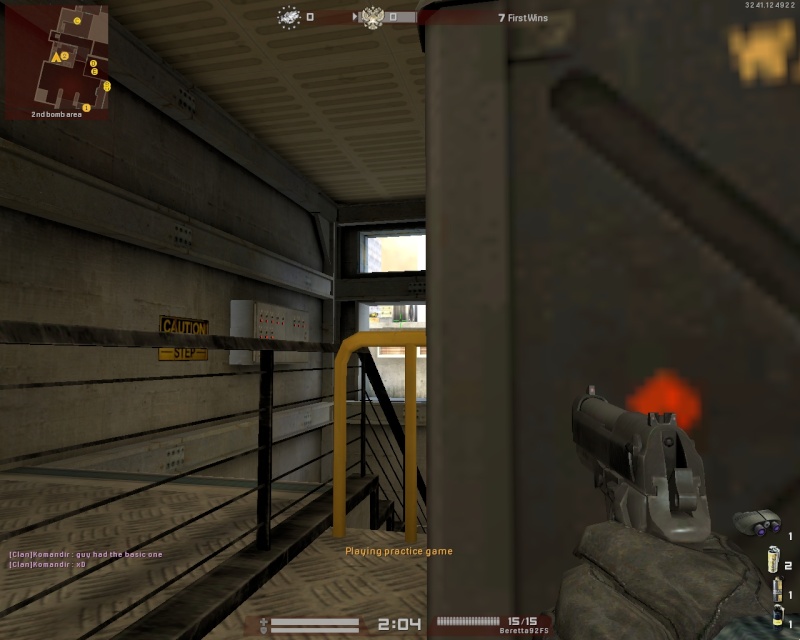 but ive got something to say about that!
You can very easilly camp the vent from a few spots.
This spot is great for noobs and pros who feel they are to pro to look down. This is RIGH below the vent, and is great for catching pros jumping down. They will land RIGHT infront of you, and be ezpickings since they will be expecting someone to be camping the bomb spot......HAVE FUN!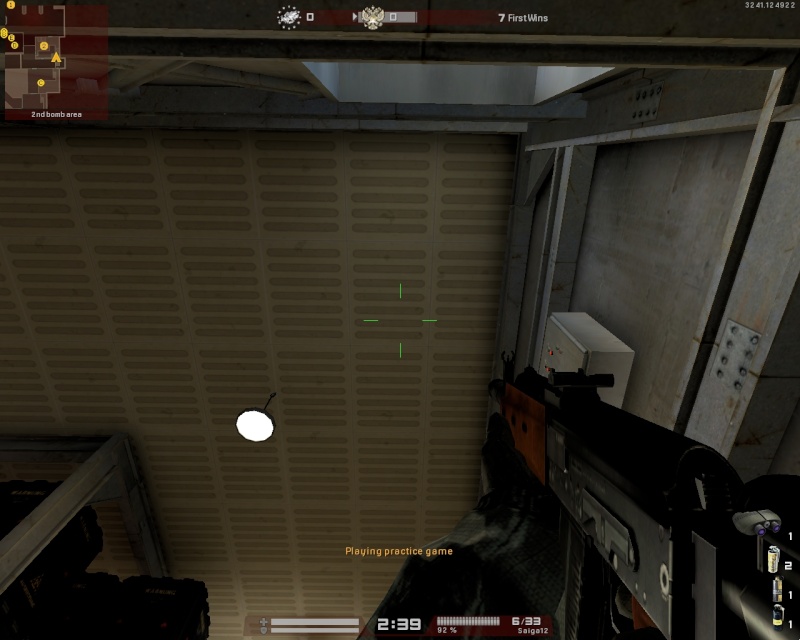 This spot is for those who have quick reflexes, once you see a head or a body, boom, take it.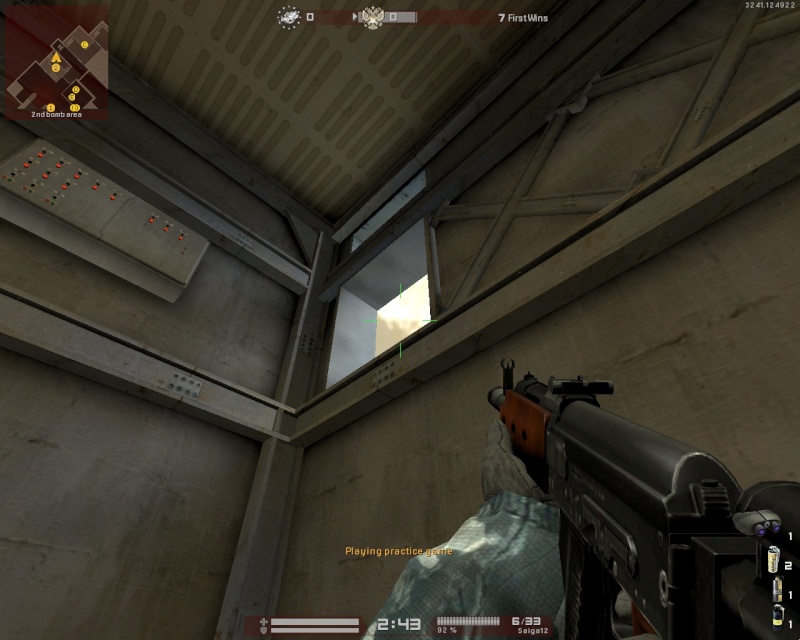 From this spot, you can also camp the door to the right, you can eather camp the vent AND the door like this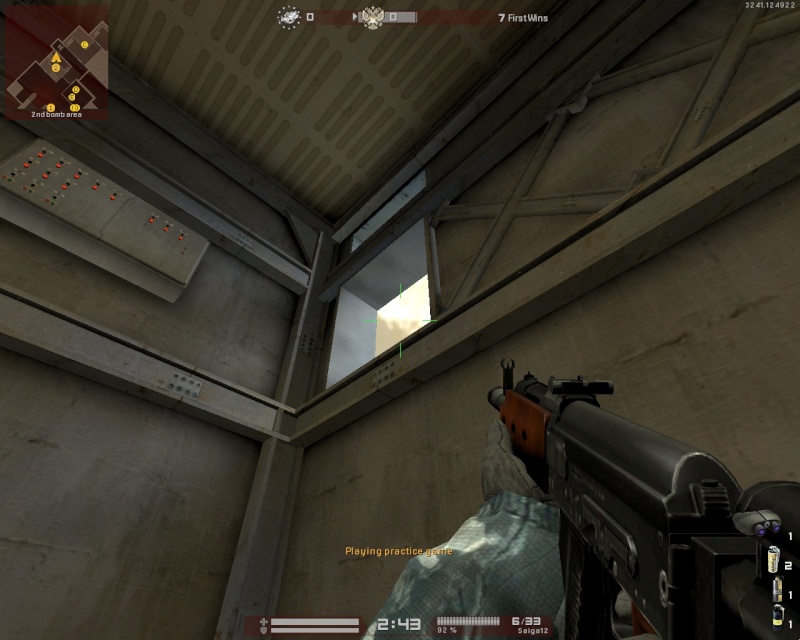 (remember from here you are far away, so your shotgun wont be as effective, i usually take a shot, then run back to the bomb point)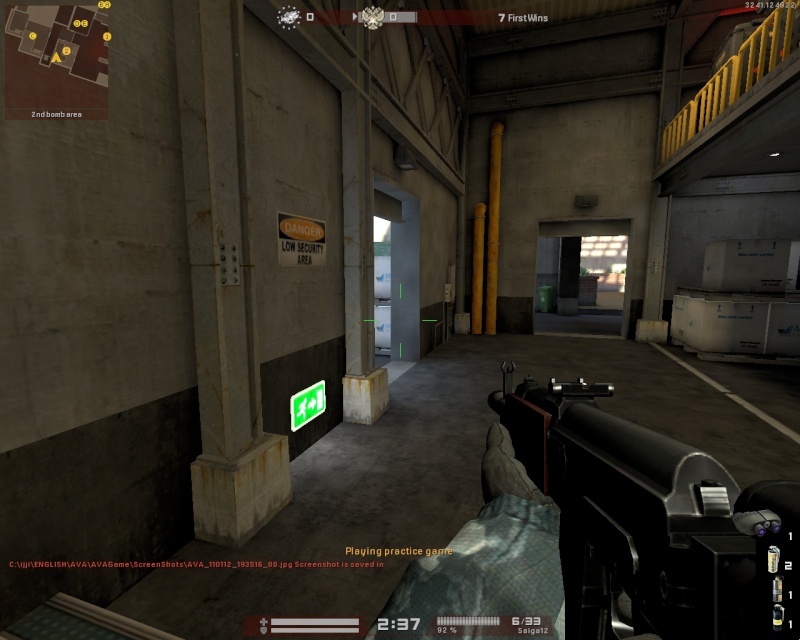 OR you can just camp the door head on like this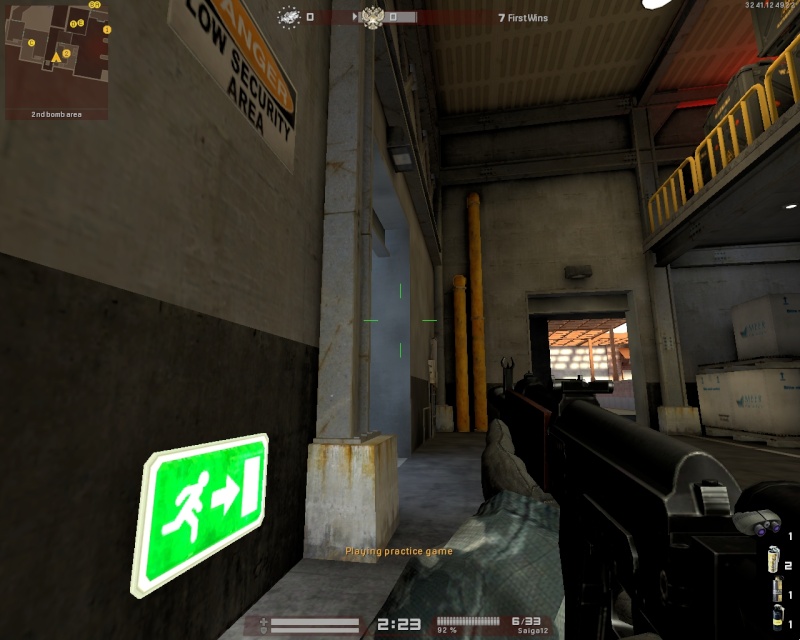 As stated earlier, some of the windows are tight, but you have to do 2 things, first, LISTEN AND WATCH YOUR BACK, second, you have to give yourself a window of oportunity. Most people will walk RIGHT through a door, you can give yourself a bit of space to compensate for your reflexes but remember this, you will take damamge, so you NEED to have a ONE AND DONE type of attitude! TAKE THE SHOT, ONE HIT AND KILL! (try to aim for the head)
Moveing on.
Generally what happens is that if opponents DO get through the door or the vent, REMEMBER YOU STILL HAVE OPTIONS!
If someone gets through the vent, you can ezilly camp here
OR if you REALLY want to be sneeky, you can also camp HERE!! TEE HEE!!!!!!
Remember that your opponent has 4 ways into the bomb site! Each of these are campable, 1 is the vent, 2 is the door that leads to parking lot (NRF Spawn) 3 and 4 are the doors next to the vent, and the door that leads to the courtyard.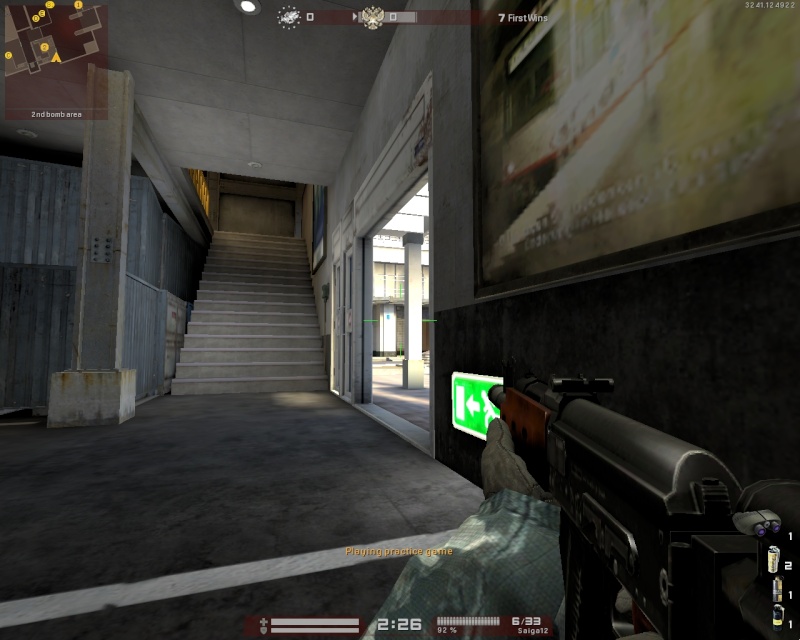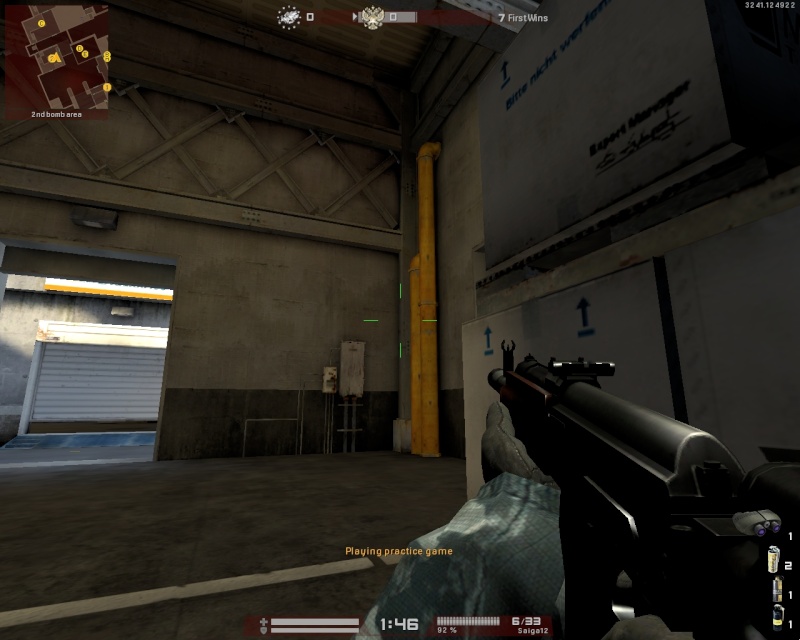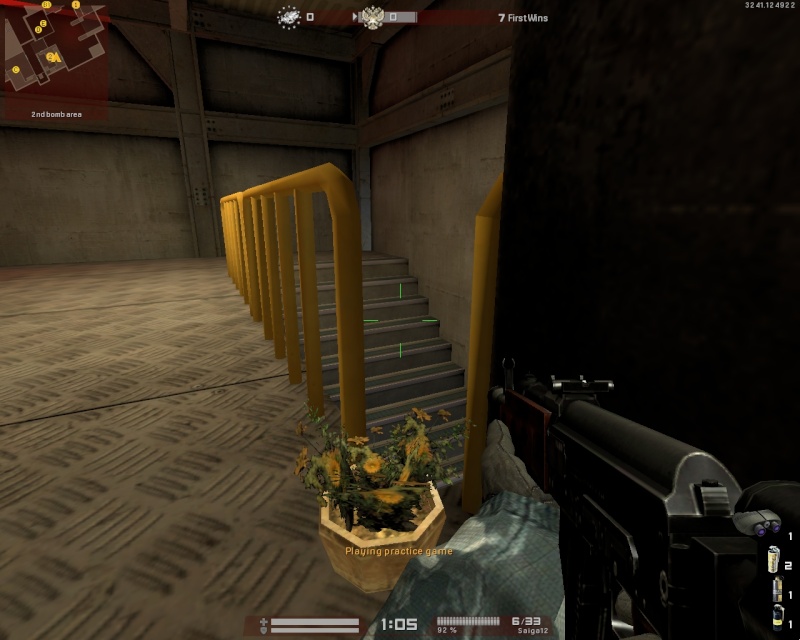 Remember to! WATCH YOU MAP TO SEE WHERE THEY ARE COMMING FROM, and above all else, WHILE CAMPING, DONT EXPECT ANYONE TO WATCH YOUR BACK!!! Be sure to LISTEN!
Well thats it for 2, now just as I said before, 1 is abit harder to camp, 1 isnt as straightforward as 2 and can be alittle more difficult. There is more wide open spaces and you have to watch your back a bit more.
You start in the same place, however, for EU to get to 1, they have to go through the building and head downstairs. If you know which way they are going, you can cut them off at a few points.
There are a few places to camp along the way, so here we go.
If you want to rushcamp, you can camp next to this machine, however, be aware that if a opponent comes from the top of the stairs, you are a sitting duck, remmeber you have a shotgun, you dont have much manovarability...if things get hot, get out of there, your not a pro, your a noob camper, try to stay out of as many firefights as possible!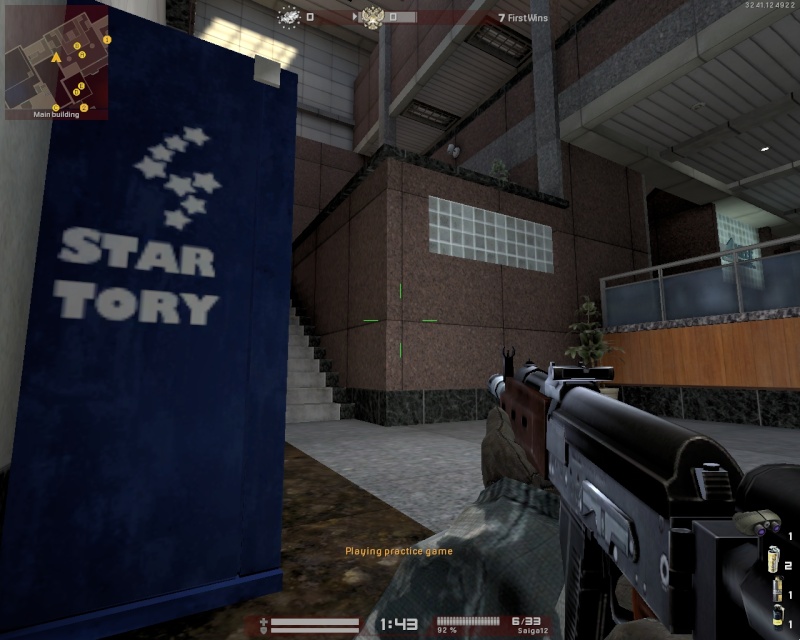 Now, besides this spot, you can go right up the stairs, but remember if you walk infront of that door, there COULD be a sniper that could snipe you, or other pointmen rushing the hall, BECAREFULL! However if you DO get up the stairs, you got a few camp spots.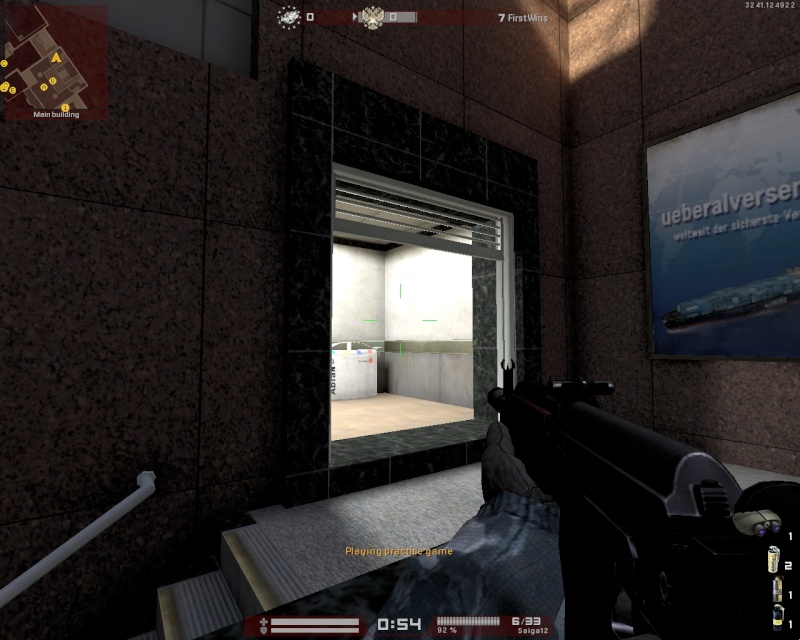 If EU for some reason is takeing their sweet time getting through the door, you can also camp here (the chances of this happening are slim, but its also a good hideing spot if 2 fails and they have to backtrack to 1)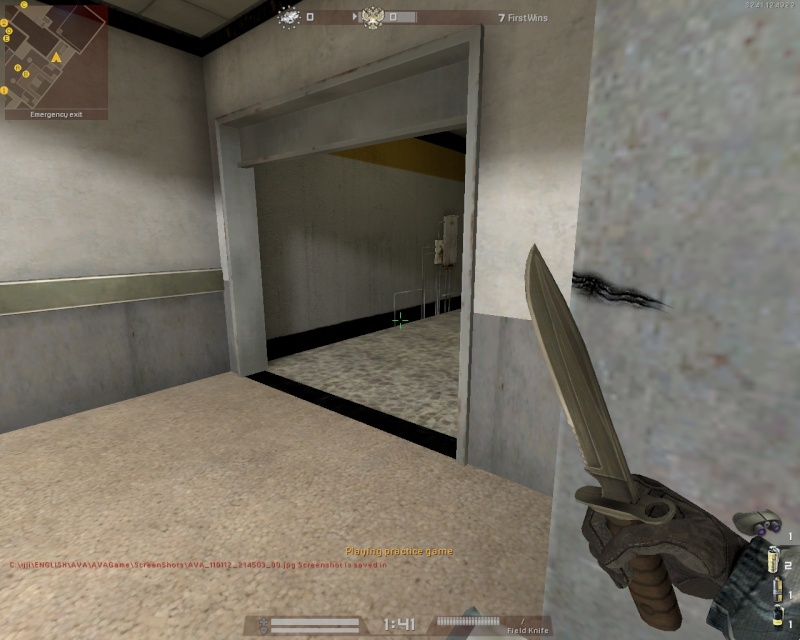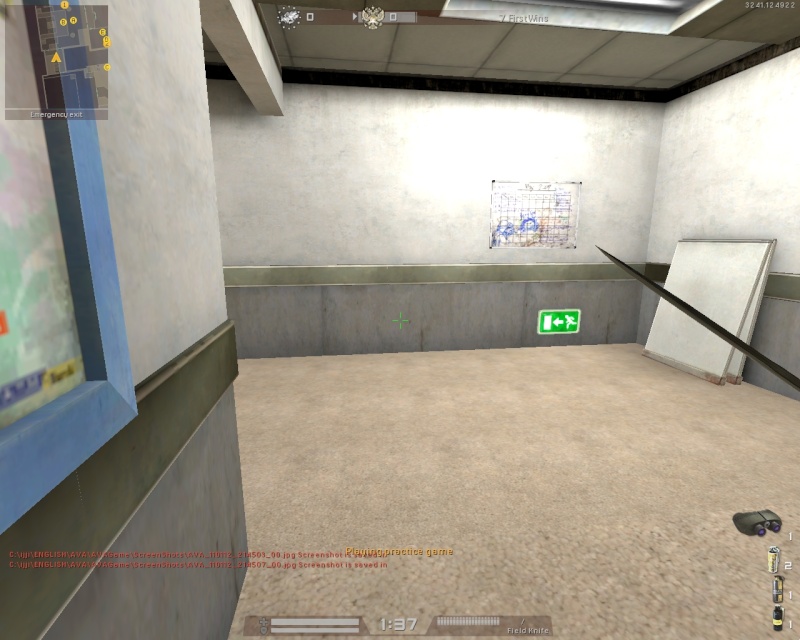 If EU gets through the bulding, they need to go downstairs to 1. and you can cut them off at many points.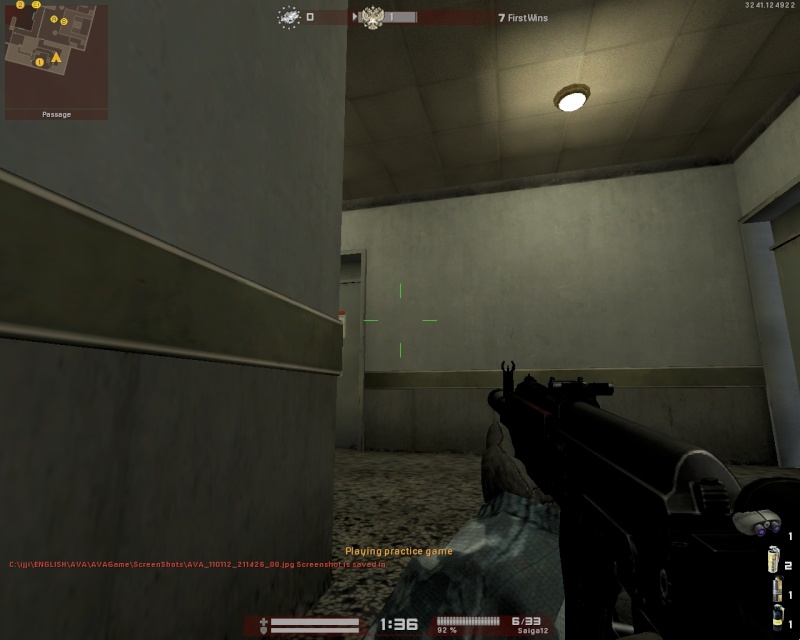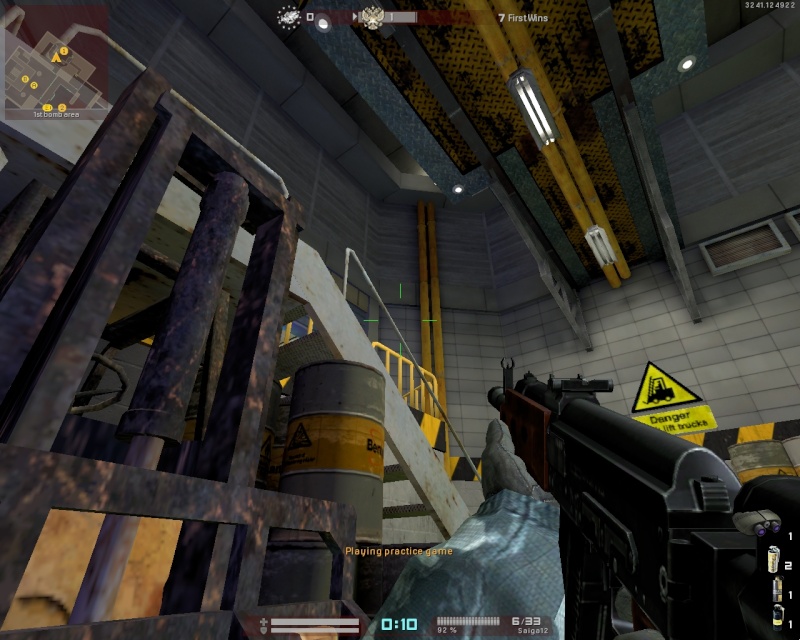 From the spawn point, you can go down the slope, and head to 1 underground. There are a few points you can camp from there as well to stop them if they try to use the slider underground. Remember there are 3 places to get into 1. You can take the ladder upstairs and go downstairs, go down the slope, or go through the building.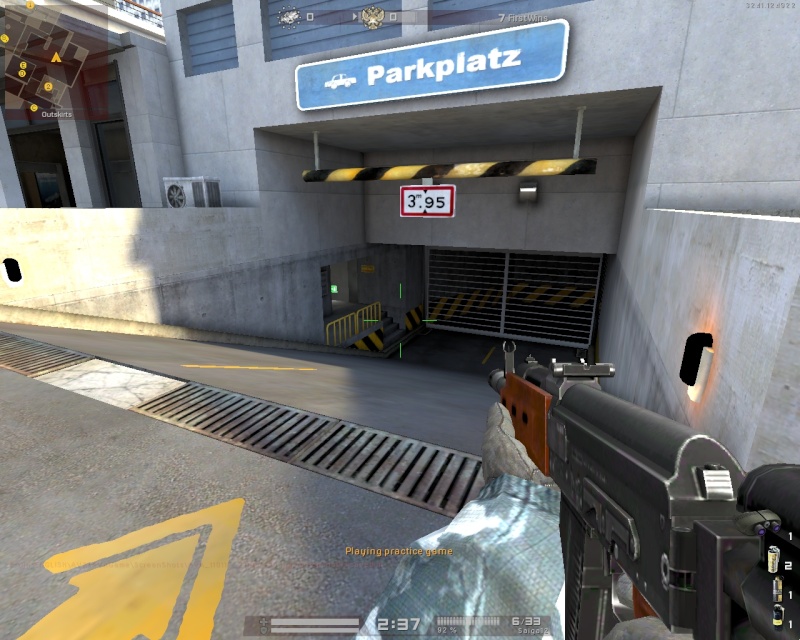 If Someone tries to go underground and flank 2, this is a great spot
This is a good spot if you have good speakers. This spot will allow you to hear the slider underground. You can hear the steps clearly as you blast them from the corner.
This is the entrace hallway to 1, again a good spot because people generally think you are hiding behind the box, they dont expect a shotty right around the corner.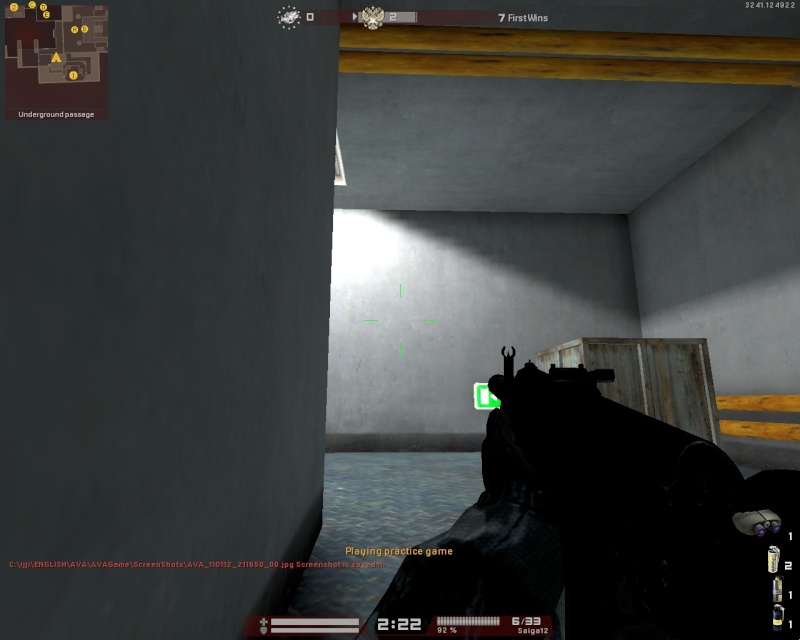 This is the box i was speking of in the picture above. Like i said, generally you have people who will eather shoot the box down the hall, or once they realize that noone is there, they will look up thinking that someone is camping on the box on the wall.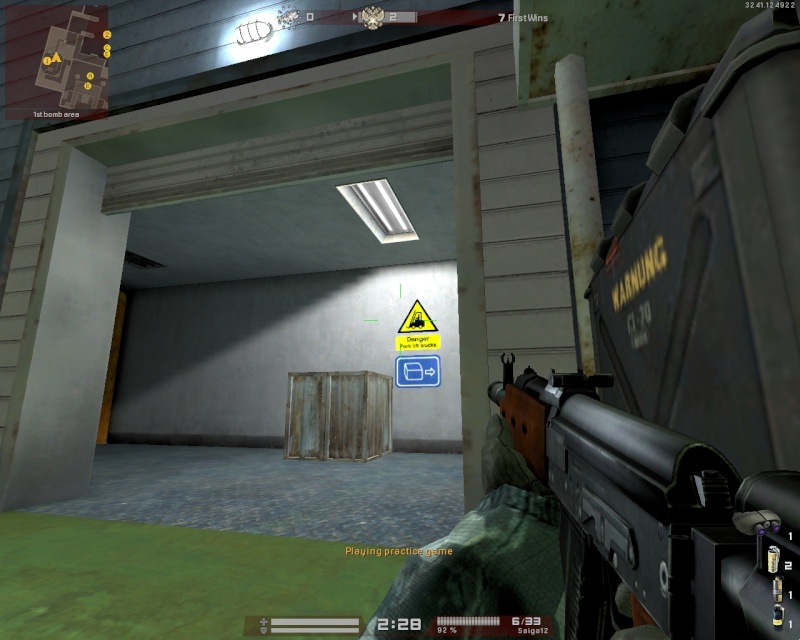 This is the spot I was speaking of in the picture before. People HATE getting killed by someoen camping here, so they come around the corner almost instantly looking up, or they will go to the far end of the door and try to look up, eahter way, you got them not paying attention to you in the corner.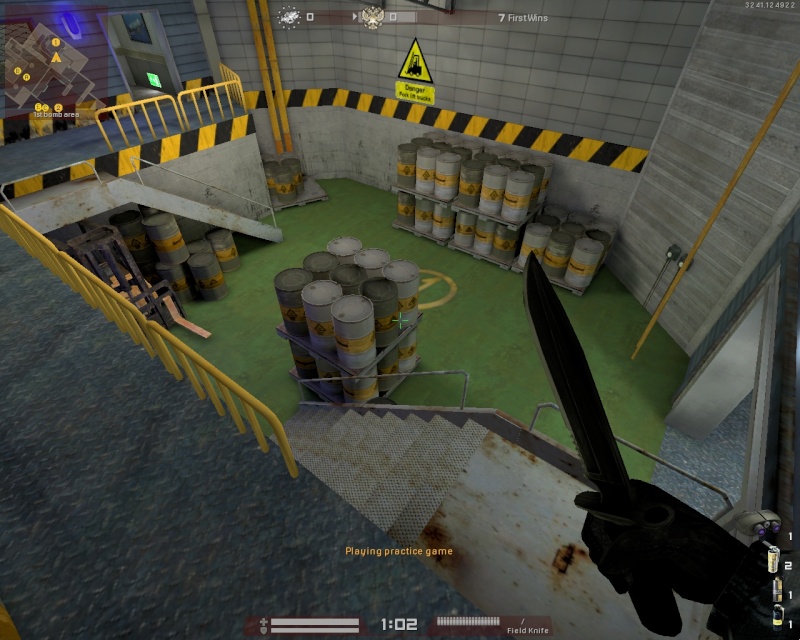 Last but not least, you have the vent entrace. This is probably my number 2 spot to camp besides the vent in 1. This is pretty much a free kill since they are in such a ackward possition, plus you can eazily jump down to guard the bomb.
[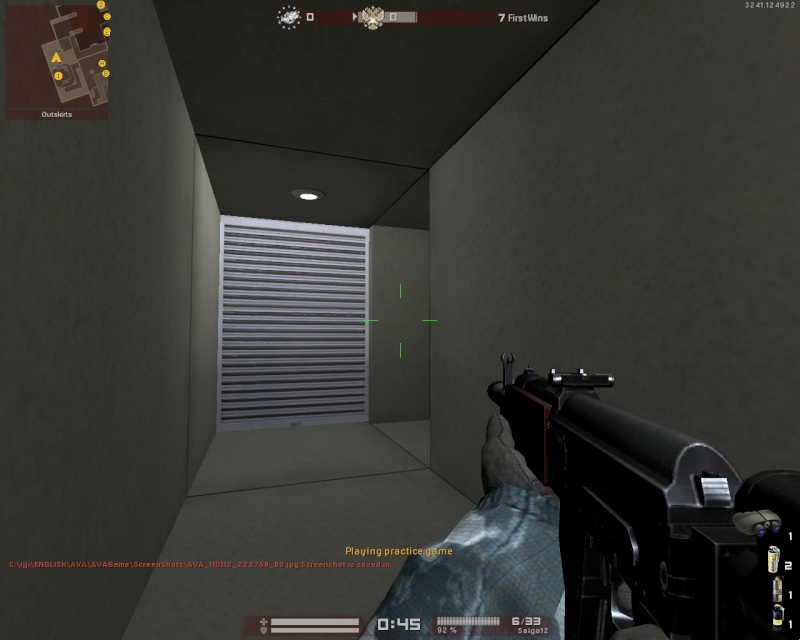 And there you have it. The most camp spots that are useful for defending.
As i said earlier, yes these are defence spots, however, camping is universal. When on EU back up your team as support, use pointman rush points to get in on enimies, however, you will be most valualbe when your team takes a point. From there use the camp points above to stop the team from disarming the bomb!!!
So what do you think, give me some feedback.
Alright I finally got a video going of my playing showdown and useing a few of the spots. Also giving a few tips along the way!
Check it out!
Please comment to give tips and let me know what you think! Thanks!